Neil teaches guitar virtually (for now), under his instructional company



Getting It Better Music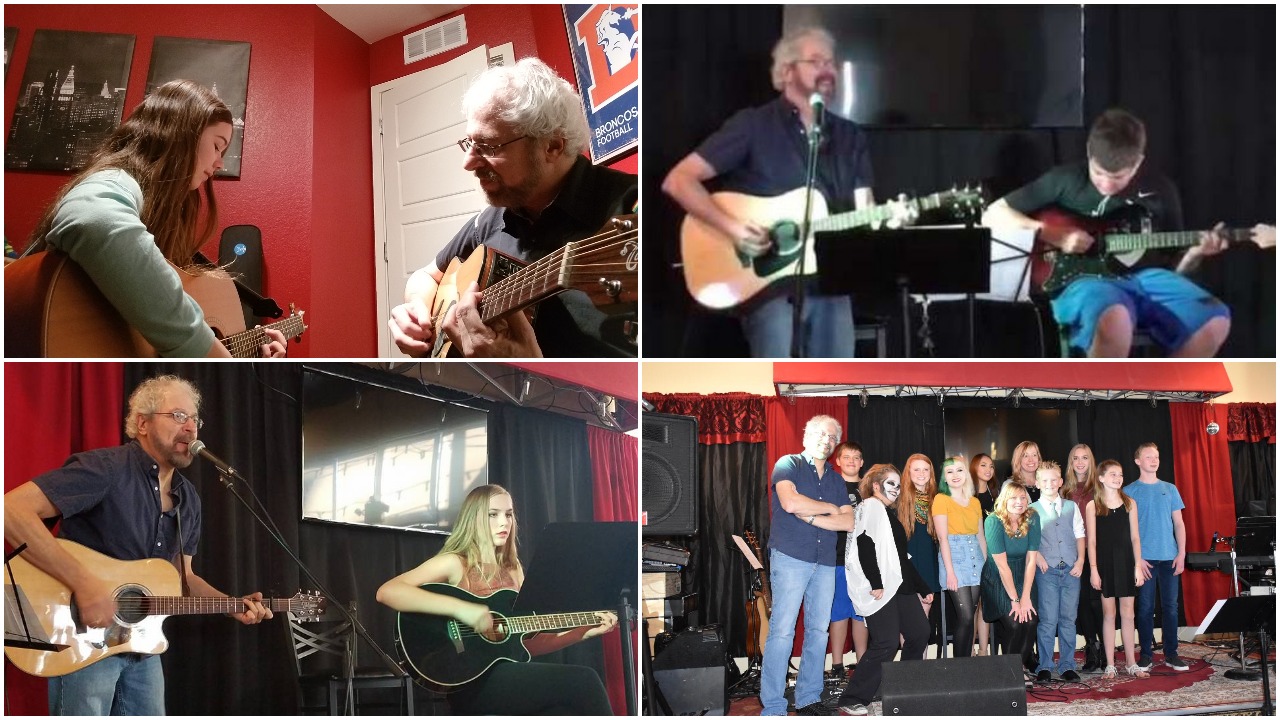 Email Neil for more info or to schedule a lesson

Neil talks about his style and goals as a guitar instructor
"I teach more than just the basics of guitar playing. These involve technique and style that they don't show you in music theory or "standardized" guitar courses. Much of this comes from my over 40 years of live and recorded performance. I find my students sound more professional and stand out from many others when they learn this way. In addition, I encourage my students to choose the songs that THEY want to learn! I believe the more fun you can have while learning, the better (and faster) you'll get to the next level! The most fun for me is seeing (and hearing) the results of our efforts together...the students and I. We're a team, you know.…"
Neil teaches students of all ages, customizing lessons based on their skill level, from "newbie" to beginner to advanced. He's available for 30 minute and one hour lessons, conducted virtually on multiple platforms including Skype, Facetime, Facebook Messenger and more.
TESTIMONIALS

 "When I first reached out to Neil on Thumbtack, I told him exactly what I was looking to learn. After just four lessons I have found that he not only understands the approach I need to take, but is super patient and helpful at teaching me what I want to learn. He is very accommodating and I have been really pleased with my quick results. I highly recommend Neil for beginner and intermediate guitarists like myself who want a customized, tailored approach."
--Susan F.



 "Neil is great. He relates well to my daughter, teaches her skills she can immediately apply to what she is working on. He is technically on point, in tune with music she likes and able to explain things in a fun, understandable manner. I would highly recommend him to anyone of any age wanting to improve their guitar playing ability."
--Sheila M.



 "Neil has been a great teacher to me over the last few months. As a self taught musician I struggled with lead guitar playing, Neil has made it easy to understand what I've had trouble with, and has an amazing way of working with my playing style rather then forcing me to adjust to normal playing stiles as other teachers have done to me in the past. he works with me to play the lead the way that feels more natural for me. Neil is an excellent, and patient teacher. I highly recommend him to any beginners or even self taught musicians that want to expand the playing abilities."
--Turtle R.



 "I am writing to recommend Neil Zimmerman for guitar lessons. I have found Neil to be very committed in helping me become a better guitar player. Neil always brings an upbeat, caring and patient attitude to each lesson. In the few short months I have been working with Neil, my knowledge of alternate fingering of chords and picking techniques have increased tremendously. Neil really takes the time to assess your current guitar playing skills and then uses that information to customize his teaching approach to each artist (student). No matter what your skill level is, Neil can quickly assess your ability and get you on a path of improvement. Neil is also very flexible and accommodating when it comes to scheduling lesson times (yet another plus). I highly recommend Neil for guitar lessons. Whether you are a seasoned, accomplished player or a beginner, Neil is your man! - Clint Hann"
--Clint H.


Click here to view Neil's profile on 


Email Neil for more info or to schedule a lesson